Different Ways of Using Your Food Processor and Its Attachments
Unlike other kitchen appliances, the Food Processor has a variety of methods. The food processor can be used to help you make a quick, healthy meal.
First thing's first – assembly
Most Food Processors can be completely disassembled, and people prefer to store them separately to save up some space. So when you're set and ready to cook that delicious meal, be sure to not leave out any of the appliance's components.
A Food Processor will always have a plastic bowl that needs to be secured on the electric base, incorporating the shaft. After that, it depends on what type of processing you want to do in order to choose the correct blade for the task. When all that's set, just top the Food Processor up with the lid and you're ready to go!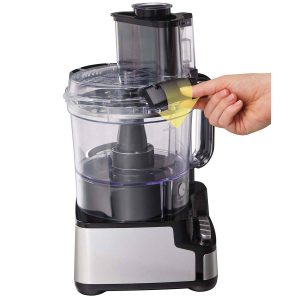 Ingredients – all at once or separately?
Depending on the recipe you're making, you will either have to put all the ingredients inside before turning the processor on, or add them one by one. If your Food Processor doesn't come with a feeding tube, be sure to turn it off before removing the lid and adding any extra ingredient.
When it comes to adding liquids, the bowl has a "fill" line on the side, be sure not to pass that.
Hot ingredients are not necessarily a Food Processor's best friend, so it may be recommended to cool them down before adding them to the mix, especially if you're putting them in through the feed tube.
Depending on the type of ingredients, you can either chop them into smaller bits so they can blend better, or use a bigger power setting to make sure they're all mixed evenly.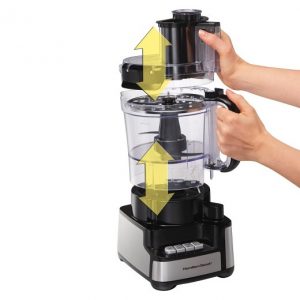 Cleaning and storing
The plastic parts and the blades can be easily rinsed in the sink, with soap and water. For the base part, however, a damp cloth is more suited.
Putting the whole Food Processor under water (including the base) is not recommended, as this can damage its parts, and can be a real risk if it's still plugged.
After all the components are clean and dry, you can either re-assemble the processor for storage, or you can take it apart and store the attachments separately.
Attachments – a chef's best friend
Usually, a Food Processor comes with 4 basic blades: the S shaped one, the slicing disk, the grater attachment, and the dough blade. The S shaped attachment is commonly used for chopping (fruits, vegetables, etc.), making sauces or grinding. The slicing disk basically speaks for itself, helping you slice your veggies and fruits fast and efficient. The grater for a Food Processor is a huge improvement compared with the manual one. This way you can grate anything in the blink of an eye, like cheese, carrots, apples, etc.
The last attachment isn't available for all the available Food Processors, but if you have it, you're very lucky. It can help you make a various amount of dough, like pizza, pie, bread, and so on. All you need to do is put all the ingredients for the respective dough there and push a button!