Good Samaritan Jewish Nurse Breastfeeds Palestinian Baby
There have been few conflicts that have been as long running as the one between Palestine and Israel. It is not uncommon for the citizens of different faiths to be wary of one another and to be separated by their beliefs. Of course, love and kindness has a way of breaking such barriers and this is precisely what happened between Ula, a nurse, and baby, Yaman.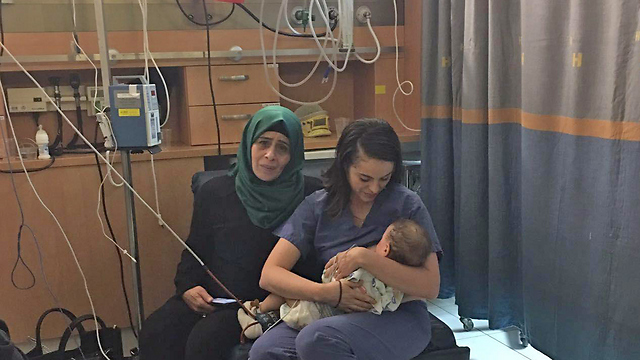 Tragedy struck on the 2nd of June, 2017. A family of three were driving around in Jerusalem when they met with a head on collision with another vehicle. The father was instantly killed while the mother and the baby, 9-month-old Yaman Abu Ramila, were rushed to Hadassah Ein Kerem Hospital.
Yaman had only mild injuries while his mother had to remain hospitalized as she needed further care. Unfortunately, this meant that she could not look after her son and certainly couldn't nurse him. Although Yaman's aunts soon showed up the hospital, there was little they could do. For all their efforts, the baby would not feed from the bottle. Little Yaman simply cried for hours on end and could not be comforted.
Upon hearing Yaman's plight, Ula Ostrowski-Zak offered to breastfeed the child. Ula had an 18-month-old child of her own and was more than willing to provide Yaman the nourishment he needed. If this wasn't startling enough, the clear differences between the boy and his nurse spoke volumes. Yaman and his parents were Muslim while Ula was Jewish.
Yaman's aunts were grateful but nonetheless very surprised that Ula would make such an offer, considering the religious differences. According to Ula, however, she had absolutely no qualms. In her words, "every mother would do it" (YNET News, 2017). The generous nurse even claimed that nursing Yaman was like "feeding her own son."
Ula's generosity did not end there, however. As the time approached for Yaman to be discharged, she knew she had to find someone else to breastfeed him. So, she took to Facebook to see if she could find someone who would continue to feed Yaman. The response was overwhelming: more than a thousand people offered their help.
Fortunately, Yaman didn't have to rely on the kindness of strangers. Another one of his aunts lived close by and volunteered to continue caring for him until his mother could leave the hospital. Yaman will remain with his extended family while waiting for his mother to get better.
Ula has proven that the human spirit prevails against all odds. She simply saw a child that was in need and knew that she had to help. She didn't even consider the religious divide or any other compounding factors. All she wanted to do was to make sure that a little boy remained comforted and healthy while he could not be cared for by his mother. It is an excellent example of how differences can be set aside when it truly matters and that all gulfs can be bridged, regardless of how large they may seem.
Read More at YNET News
Have an inspiring story? Want to share? Contact us and tell us your story here!