Top Tips On Protecting Your Skin During Summer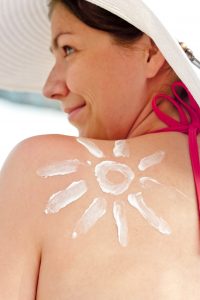 There are so many beliefs and things we do wrong when summer is finally here. Unfortunately, not keeping us to the new health standards concerning our skin may get us in big trouble these days; therefore, we thought to battle some of the main misconceptions with respect to summer skin and bring you some of the most useful tips on how you can protect your skin during the sunny days of summer.
Misconception Number 1: Brown or tan skin needs less protection
This is a big mistake that many people believe. Of course, tanned and brown skin need as much protection as possible because it's not about becoming tan, rather the need to battle the aging and cancerous effects of the UVA/UVB rays. The sun is healthy for our skin, but only up to a certain point. Make sure you get the best proper protection for both you and your family.
Misconception Number 2:  The less protection you use the tanner you get
This misbelief can be connected to the above written one: this a something many still believe in, but the tanning and the protective measures cannot be connected this way. There is a certain amount minimum protection your skin needs under the sun. Make sure you also use a daily cream with the proper amount of SPF (15 at the minimum)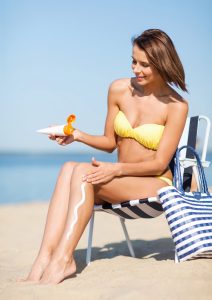 Misconception Number 3:  Sunbathing when the sun is the strongest
There are still too many sun lovers out there who have a totally wrong idea on how to sunbathe the smart way. Many of these people end up suffering very severe sunburn on the first day of their vacation and forced to stay inside for the rest of it. So don't be one of these. Do not sunbathe especially in the Mediterranean countries between 11:30 AM and 3:30 PM. This is the time when the sun rays are the strongest and the most lethal on our skin.
Misconception Number 4: You need to go to tanning bed to prepare your skin before holidays
It's true that if you have a certain amount of tan then you are less prone to get burnt but be aware that tanning salons are not good for your skin: tanning causes aging and can also have cancerous effects on your skin.  If you decide to use tanning bed, make sure you won't use it more than 3-4 times a month and always apply sun crème before these occasions too.
Misconception Number 5: Tan will make you look younger
This is a popular misconception which stems from back in the day especially in the Sixties when sunbathing has become increasingly trendy in Europe and in the US. Since then however, it's been proven that excessive sunbathing have a severe aging effect on our skins and that tan is not necessarily the way to the younger looking skin.
Misconception Number 6: There is no need for suntan in the shadows
This is another big misconception and of course it's not true. You can get tan also in the shadows and the sunrays would also find your skin, both the good and the bad way. So, apply your sunscreen lotion already in the morning and re-apply it at least once more or after each swimming session.
What should you do to protect your skin this summer?
Wear high 30+ SPF Sunscreen whenever you are outside
Wear hats to protect the delicate skin of your cheeks and ears from excessive sun
Wear sunglasses to protect your eyes from UV rays
Limit time outside when possible
Use shade, such as umbrellas or pop up canopies, when spending a day outside
Drink lots of water – dehydration is bad for the skin
Regularly use a good lotion – the sun tends to dry out skin, which will make the problem worse
Eat healthy foods because foods high in grease and fat will negatively affect your skin
Wear covering clothing when not protected by sunscreen